Trans-Cultural Creation and Bella Gaia by Kenji Williams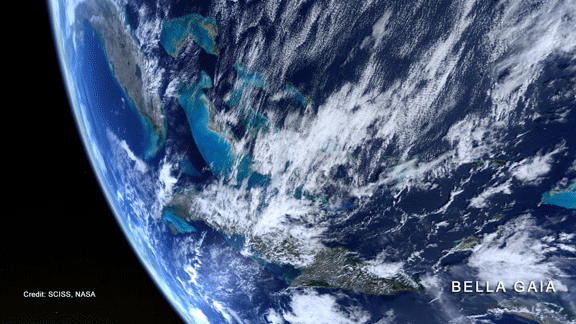 Panel on Trans-Cultural Creation: The Global Landscape of Arts and Media
I attended the State of the Arts Symposium at the L.A. Center last Saturday. Actually, I didn't show up til the last three hours of the event. Wish I had arrived earlier because the one panel discussion I caught was thought-provoking.
I was most impressed by the wise, articulate and surprisingly young Tala Mohebi, Editor-In-Chief of Public Diplomacy Magazine from USC. The latest (Winter 2010) issue is all about Cultural Diplomacy.
Excerpt From the Editors by Tala Mohebi, Katharine Keith, John Nahas, "Governments, non-state actors, multinational corporations and influential individuals have all, at some point, utilized culture as a tool for communicating and relating to foreign as well as domestic audiences. While this is common practice, it is not always correctly identified as cultural diplomacy. Our goal in this issue is to bring together the history and theory that underpins this element of diplomacy in order to recognize its value as well as its limitations. Our lead articles, found under the heading 'Connecting Through Culture,' touch upon the numerous debates that surround cultural diplomacy as a practice."
I especially enjoyed the World Without Walls article (sadly it's no longer available online.)
Bella Gaia
The SOA Symposium wrapped up with a fitting presentation that blew my mind. BELLA GAIA is a film shown in giant projection on a dome ceiling to simulate a space travel experience. I believe the director's goal is to impart the same kind of paradigm expansion astronauts had viewing Earth from a distance – and to me, he succeeds in much more than that.
Director Kenji Williams combined NASA footage, visual exploration of select locations around the planet, super fast time-lapse photography of polar ice caps receding with each passing year, animated text of astronauts' formulas and simple yet powerful graphics comparing what's happening on different parts of the globe (such as oil consumption). The soundtrack consists of a few astronauts' powerful observations – in their own words and a world beat instrumental score accompanied by Kenji himself playing the violin live.
A celebration of Bella Gaia, our beautiful Earth; I found this to be a powerfully soul-stirring experience. A true work of art with the potential to open people's hearts and minds to the bigger picture of living here together on this planet.
And this film is a living thing that continues to be updated with new images captured by NASA and National Geographic photographers around the world.  Again, if you have the opportunity to see this in person, it's NOT TO BE MISSED!